HTC Applauds Community with Double Celebrations
HTC Applauds Community with Double Celebrations
05/09/2022
Hungerford Town Council 2022 Annual Grants Awards and Hungerford in Bloom Competition Winners
Despite threating rain clouds, spirits were certainly not dampened on Saturday 3rd September with HTC hosting a double Civic ceremony. The first event was held in recognition of deserving local charities and groups, in receipt of a grant towards their organisation from HTC. The Councillors then gave a hearty cheer to the annual competition winners of Hungerford in Bloom 2022 who had beaten off stiff competition from many enviable gardens, outdoor spaces and courtyard gardens in the residential and commercial categories.
Hungerford Mayor, Cllr Helen Simpson, says:
"The annual Grants Awards is one of my favourite civic events. So many of these local organisations and charities offer invaluable support to the residents of Hungerford and meeting with the deserving groups to recognise what they accomplish is incredibly humbling. On behalf of all the Councillors, we cannot thank them enough for all the work and time that they give up for the benefit of the community".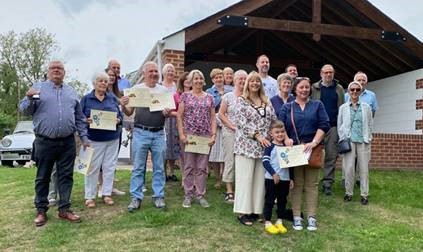 Cllr Helen Simpson adds:

"It is also such a pleasure to be presenting the prizes to the green-fingered, talented residents in Hungerford. We had yet again such a fantastic response to the Hungerford in Bloom competition
this year with a showcase of colour and creativity from the smallest of courtyard gardens to some of the larger commercial properties. I love to see what the community can create in even the smallest or most challenging spaces and meeting with the winners I'm hoping to put to test some of their useful tips!".
Details of the grants awarded this year and information on the organisations can be found on the Grants page
Details of the 2022 Winners of Hungerford Bloom can be found on the HTC website News section.