Home
Home
OgImage:
Welcome to Hungerford Town Council's Website
Our website aims to inform you about the activities of the Council and to invite your comments.
There are 15 volunteer Councillors who are supported by the Town Clerk's team. Full Council meets every month and there are four main committees and the timetable for these is listed in the calendar. Town issues are actively debated and actions taken to try and make life better for the people of Hungerford.
If you have any concerns or issues please contact a Councillor, or contact the Town Council Office.
The Town Council office is situated in the new Library building with automatic doors and is next to Church Street Car Park which has disabled parking.
Office opening hours are:

Tuesday, Wednesday and Friday 10am - 2pm
Town Council Office, Hungerford Town Council, The Library, Church Street, Hungerford RG17 0JG
You are welcome to visit us in the office or you can contact us in the following ways:
~ by calling 01488 686195 and leaving a message
~ by email: admin@hungerford-tc.gov.uk
~ via the "Contact Us" page on this website
Full Town Council Meeting
Library
Monday 7:00 pm
View Details
Environment and Planning
The library building, Hungerford
Monday 7:00 pm
View Details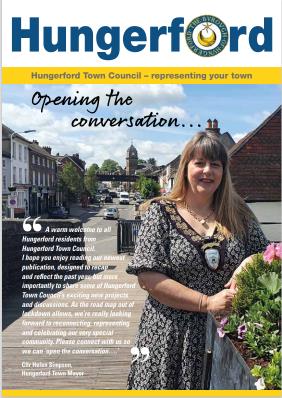 ---
HAVE YOUR SAY ON THE DESIGN OF OUR NEW SKATE PARK
Please see below link to our online consultation on the design of our new Skate Park. It is planned to be built in Hungerford in place of the existing one, hopefully next year subject to funding. This is a very exciting project for the town and will be a modern facility suitable for bikes, skateboards and scooters and for users of all ages and abilities. We very much welcome your feedback by 1st December 2022.

---
The Croft :
Footway Improvements
Thank you to everyone who completed our survey. See below for the survey results and your suggestions for improvements.

2022-2023 Meeting Dates
Latest Parish News
Christmas Lights Switch On 2022
27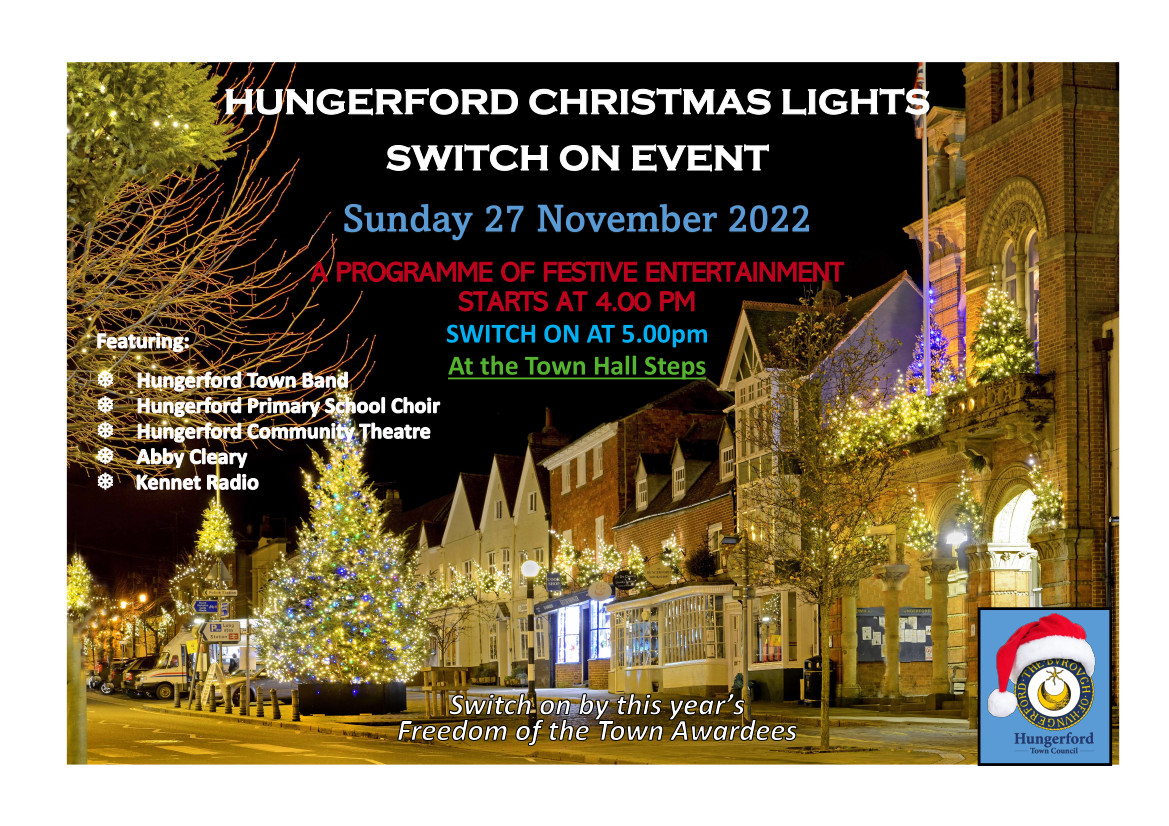 Hungerford Christmas Lights Switch On - Sunday 27th November
Join us for the ever-popular switch on event which will start at 4pm with a programme of festive entertainment featuring Hungerford Town Band, Hungerford Primary School Choir, Hungerford Community Theatre, Abby Cleary and Kennet Radio. The lights will be switched on at 5pm by this year's Freedom of the Town Awardees, Martin Crane, Penny Locke and Jennifer Bartter.
°C

%
mph
FRI
° °
SAT
° °
SUN
° °
MON
° °
TUE
° °