Home
Home
OgImage:
Welcome to Hungerford Town Council's Website
Our website aims to inform you about the activities of the Council and to invite your comments.
There are 15 volunteer Councillors who are supported by the Town Clerk's team. Full Council meets every month and there are four main committees and the timetable for these is listed in the calendar. Town issues are actively debated and actions taken to try and make life better for the people of Hungerford.
If you have any concerns or issues please contact a Councillor, or contact the Town Council Office.
The Town Council office is situated in the new Library building with automatic doors and is next to Church Street Car Park which has disabled parking.
Office opening hours are:

Tuesday, Wednesday and Friday 10am - 2pm
Town Council Office, Hungerford Town Council, The Library, Church Street, Hungerford RG17 0JG
You are welcome to visit us in the office or you can contact us in the following ways:
~ by calling 01488 686195 and leaving a message
~ by email: admin@hungerford-tc.gov.uk
~ via the "Contact Us" page on this website
Environment and Planning
The library building, Hungerford
Monday 6:45 pm
View Details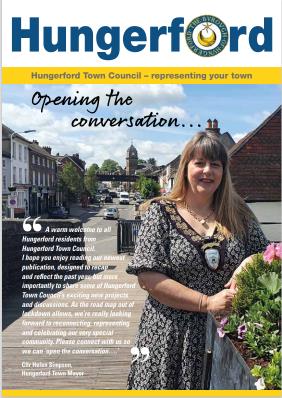 Click here to find a map showing current roadworks in the local area.
2022-2023 Meeting Dates
Latest Parish News
Jubilee
13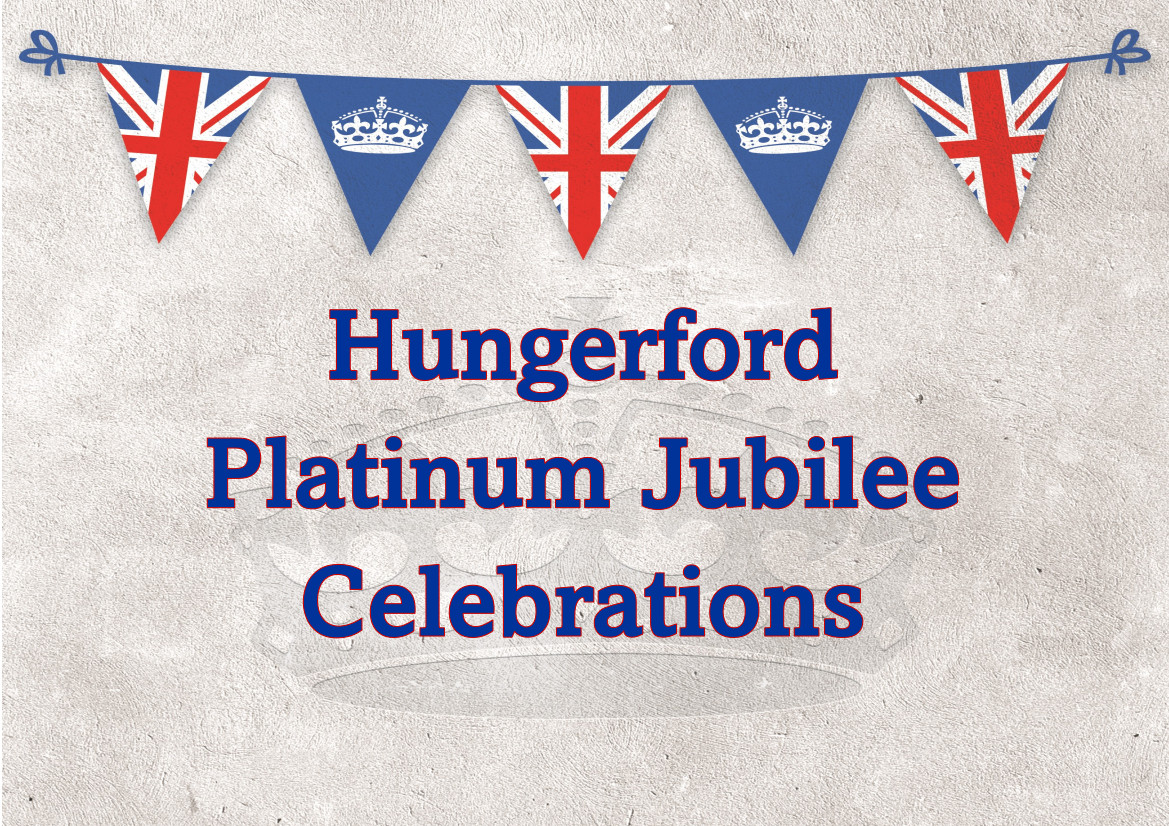 Hungerford Platinum Jubilee Celebrations


Thursday 2 June – Jubilee Beacon Lighting
Join us at the appointed time of 9.45pm for the lighting of the Hungerford Beacon at the Triangle Field, in conjunction with beacons across the country. The Rugby Club bar will be open from 8pm. Food (burgers, bacon rolls, sausage rolls and vegetarian options plus hot drinks) will be available and Hungerford Town Band will be playing.
Sunday 5 June – Jubilee Picnic & Entertainment
We're looking forward to lots of joy and celebration at The Croft Green (between the tennis club and the Croft Club) and the Croft Field (next the canal). Bring your own picnic, rugs and chairs (but not your dogs please). You can stock up with goodies for your Jubilee Picnic at the Food & Artisan Market on the Croft Field from 10am to 1pm. And you can grab a BBQ, pizza and beer at The Croft Club from 1pm. See below for the Make & Bake Competition Classes.
10am – 1pm Jubilee Make & Bake Competition Entry Drop-Off at the Food & Artisan Market, Croft Field
12pm – 7pm Bar, BBQ & Pizza at The Croft Club
2pm – 7pm Jubilee Picnic on the Croft Green opened by the Mayor
2pm – 7pm Borough Arms Bar outside The Croft Hall
2pm – 7pm Live music, Croft Green
2pm – 5pm Stalls and Activities, Croft Field
2.30pm Make & Bake Competition Winners announced, Croft Field
3pm Tug of War Tournament with Hungerford Rugby Club (bring your team or join a team on the day), Croft Field
4pm Children and Parent Races with Hungerford Scouts, Croft Field
To get involved please email jubileehungerford@gmail.com
Make & Bake Jubilee Competition
Classes
1.Hungerford's Platinum Pudding
2.Three scones (sweet or savoury)
3.Decorate a Jubilee Bonnet
4. Make a Posy for the Queen
5. Create a picture illustrating a part of the Queen's life (maximum size A4, any medium).
Age Categories
Under 11 yrs, 11 – 17 yrs, 18 yrs & over
How to Enter
Please bring entries to the Jubilee tent at the Hungerford Food & Artisan Market between 10am and 1pm on Sunday 5 June.
Hungerford in Bloom 2022
05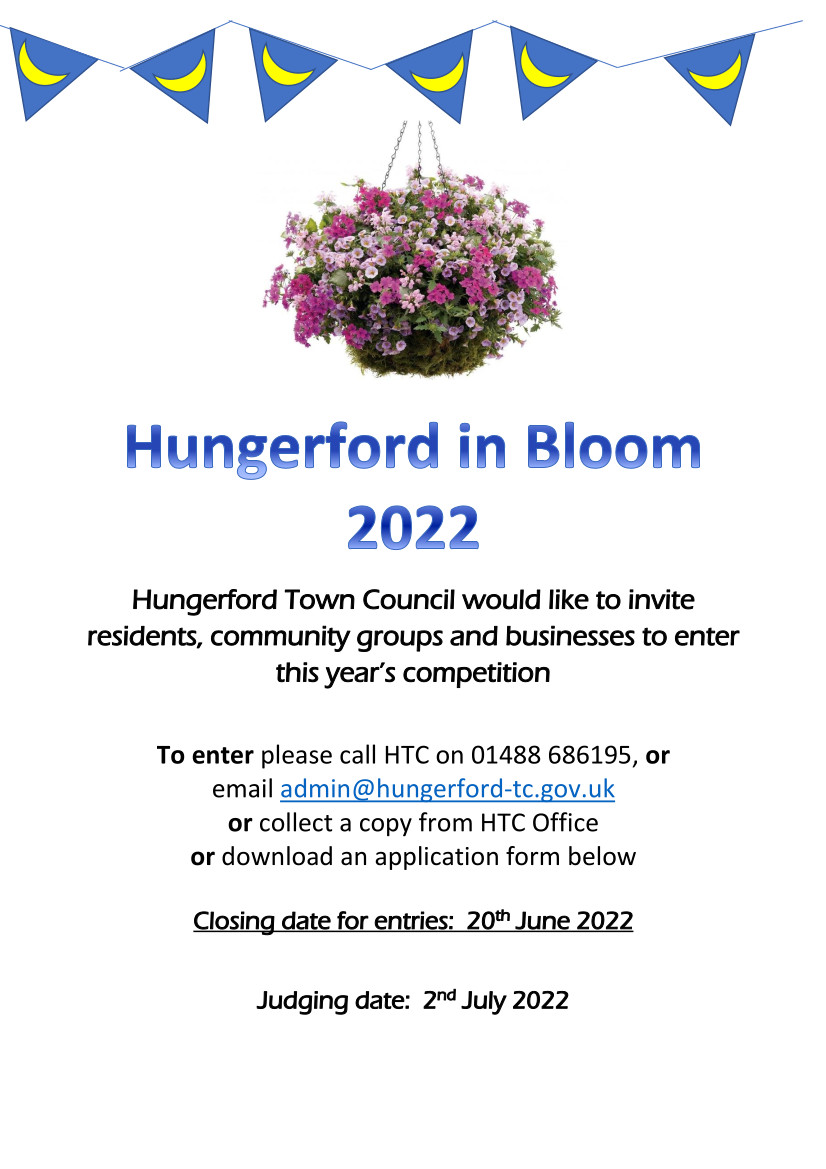 Hungerford Town Council has launched its annual Hungerford in Bloom competition and welcomes entries from residents, community groups and businesses. There are categories for all types of garden or floral displays, large or small.
This popular competition is enjoyed by many each year. Gardening is recognised as being hugely beneficial to wellbeing. We hope that in this Jubilee year even more people will get involved and have fun enhancing our beautiful town and maybe providing inspiration to others. The hanging baskets and window boxes organised by HTC will have red, white and blue plantings this year. Perhaps entrants to Hungerford in Bloom might also like to consider a Jubilee theme.
To enter, please send an email to admin@hungerford-tc.gov.uk requesting an entry form, or call HTC on 01488 686195 and leave a message with your name, an email address or postal address and we will send you an entry form. Alternatively, you can download one below.
There will also be a competition for allotment holders in Hungerford. Further details on this to be announced by Hungerford Allotment Holders Association (HAHA).
°C

%
mph
FRI
° °
SAT
° °
SUN
° °
MON
° °
TUE
° °