Home
Home
OgImage:
Welcome to Hungerford Town Council's Website
Our website aims to inform you about the activities of the Council and to invite your comments.
There are 15 volunteer Councillors who are supported by the Town Clerk's team. Full Council meets every month and there are four main committees and the timetable for these is listed in the calendar. Town issues are actively debated and actions taken to try and make life better for the people of Hungerford.
If you have any concerns or issues please contact a Councillor, or contact the Town Council Office.
The Town Council office is situated in the new Library building with automatic doors and is next to Church Street Car Park which has disabled parking.
Office opening hours are:

Tuesday, Wednesday and Friday 10am - 2pm
Town Council Office, Hungerford Town Council, The Library, Church Street, Hungerford RG17 0JG
You are welcome to visit us in the office or you can contact us in the following ways:
~ by calling 01488 686195 and leaving a message
~ by email: admin@hungerford-tc.gov.uk
~ via the "Contact Us" page on this website
Full Town Council Meeting
Library
Monday 7:00 am
View Details
Environment and Planning
Library
Monday 7:00 pm
View Details
2022-2023 Meeting Dates
Latest Parish News
Hungerford News from Penny Post
11

Hungerford in Bloom 2022 Winners
10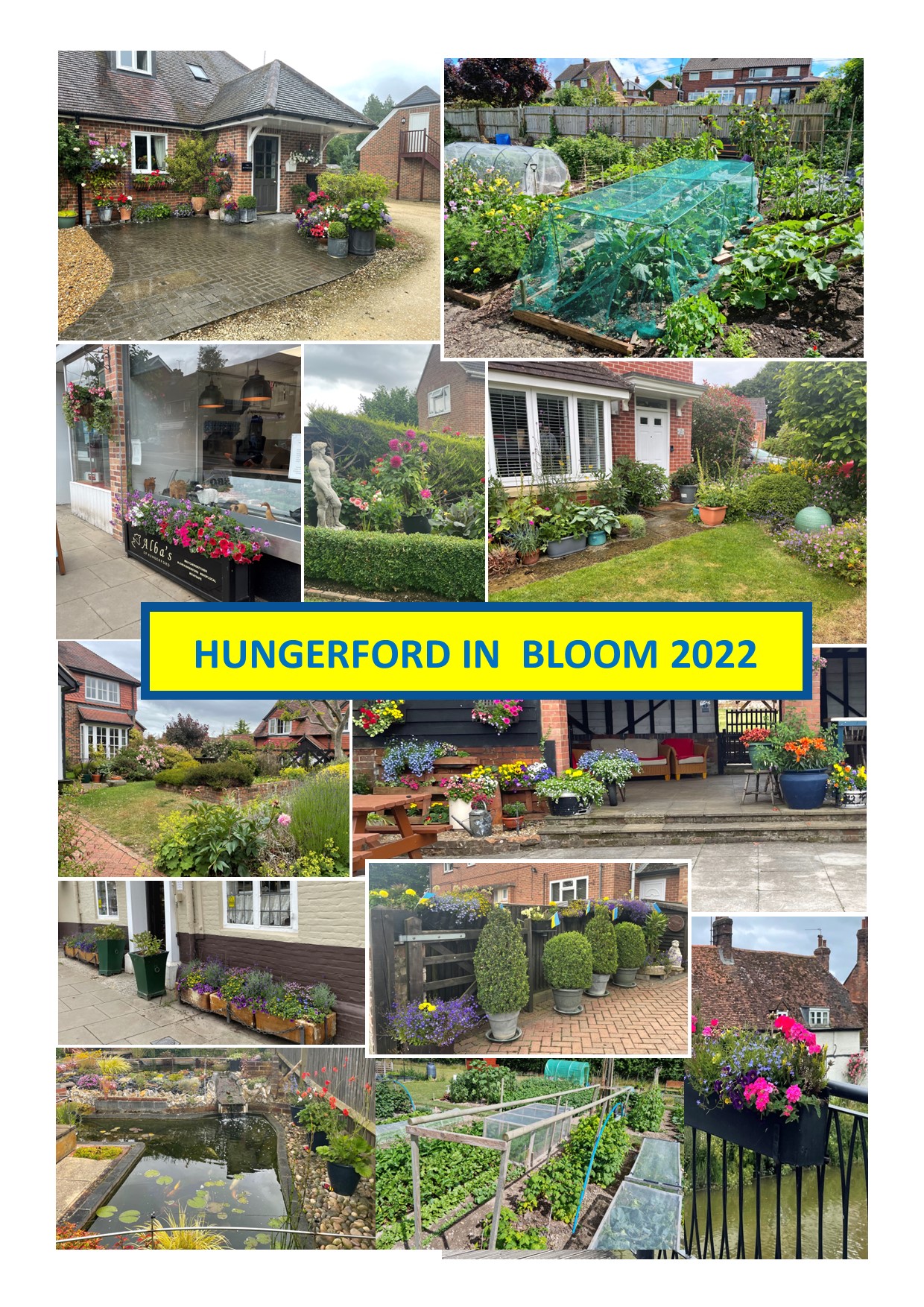 Hungerford Town Council thanks everyone who entered Hungerford in Bloom 2022.

The winners are as follows.
Residential Categories

Front Garden Joint 1st: Stuart Hall
Brian Talmage
3rd: Joe Kirby
Back Garden Joint 1st: Graham Tucker
Brian Talmage
3rd: Anita Campbell & Rita Phillips
Courtyard Garden 1st: Brian Talmage
2nd: Sadie Herbert

Commercial Categories
Public Houses: 1st: The RailwayTavern
Joint 2nd: The Three Swans
Royal British Legion Club
Shops: Joint 1st: Christian Alba Butchers
Hungerford Arcade
3rd: The Clockmaker
Any Other Commercial: 1st: Crown Mews
2nd Hungerford Hub
3rd: Cosy Coffee Shop


Schools – Containers 1st: Hungerford Nursery School
Volunteer Garden: 1st: Smarten Up Hungerford
The Winner of the Margaret Wilson Memorial Trophy(awarded to the entrant who achieves the highest number of winning place points):Brian Talmage
HAHA Allotment Categories
MARSH LANE
Mini Plots:
First place Caroline Mantell Plot 85a
Second Joanna Kerr 10b
Third equal Maria Kopec 84d
Third equal Charlotte Seibert 85c
Two or less poles:
First Lesley Jones 87a
Second Mark Foster 18b
Third equal Henry and Betty Jefferies 44b
Third equal Des Reardon 62c
Third equal Ed Sexton and Julie Davies 71
Over two poles but less than four:
First Robin and Jill Pocock 66
Second Andrew Sladen 53
Third Piotr Jaworski 52
Four poles and over:
First Neal Pike 16 and 23a
Second Jenny Alford 35
Third Robert James 80
FAIRFIELDS
First Place Thomas Rivers Plot1
Second Louise Blake Plot 2
Third Tessa Brown/The Nursery Plot 17
Overall Best Plot on the day.
Neal Pike, Marsh Lane plots 16 and 23a.

°C

%
mph
FRI
° °
SAT
° °
SUN
° °
MON
° °
TUE
° °