Home
Home
OgImage:
Welcome to Hungerford Town Council's Website
Our website aims to inform you about the activities of the Council and to invite your comments.
There are 15 volunteer Councillors who are supported by the Town Clerk's team. Full Council meets every month and there are four main committees and the timetable for these is listed in the calendar. Town issues are actively debated and actions taken to try and make life better for the people of Hungerford.
If you have any concerns or issues please contact a Councillor, or contact the Town Council Office.
The Town Council office is situated in the new Library building with automatic doors and is next to Church Street Car Park which has disabled parking.
Office opening hours are:

Tuesday, Wednesday and Friday 10am - 2pm
Town Council Office, Hungerford Town Council, The Library, Church Street, Hungerford RG17 0JG
You are welcome to visit us in the office or you can contact us in the following ways:
~ by calling 01488 686195 and leaving a message
~ by email: admin@hungerford-tc.gov.uk
~ via the "Contact Us" page on this website
Full Town Council Meeting
Library
Monday 7:00 pm
View Details
Environment and Planning
The library building, Hungerford
Monday 7:00 pm
View Details


2023-2024 Meeting Dates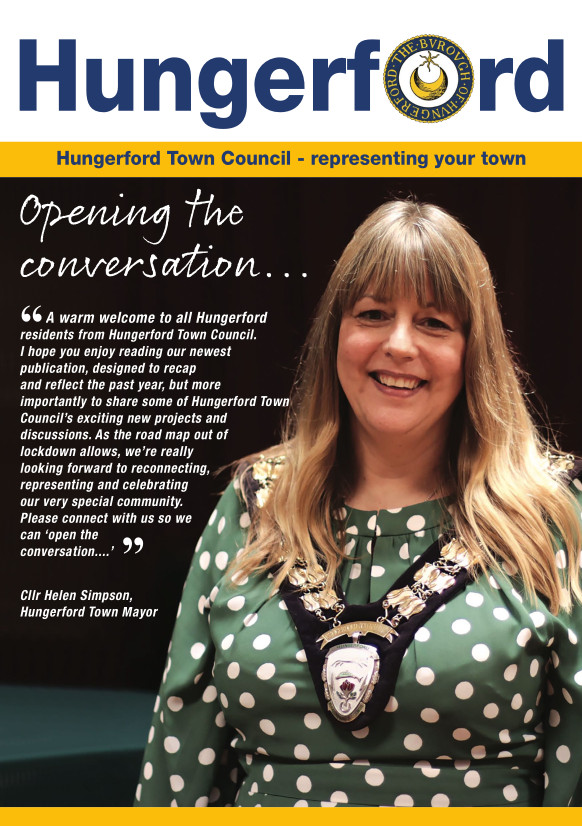 ---
HAVE YOUR SAY ON THE DESIGN OF OUR NEW SKATE PARK
Please see below link to our online consultation on the design of our new Skate Park. It is planned to be built in Hungerford in place of the existing one, hopefully next year subject to funding. This is a very exciting project for the town and will be a modern facility suitable for bikes, skateboards and scooters and for users of all ages and abilities. We very much welcome your feedback by 1st December 2022.

---
The Croft :
Footway Improvements
Thank you to everyone who completed our survey. See below for the survey results and your suggestions for improvements.

Latest Parish News
Freedom of the Town Awards 2022
09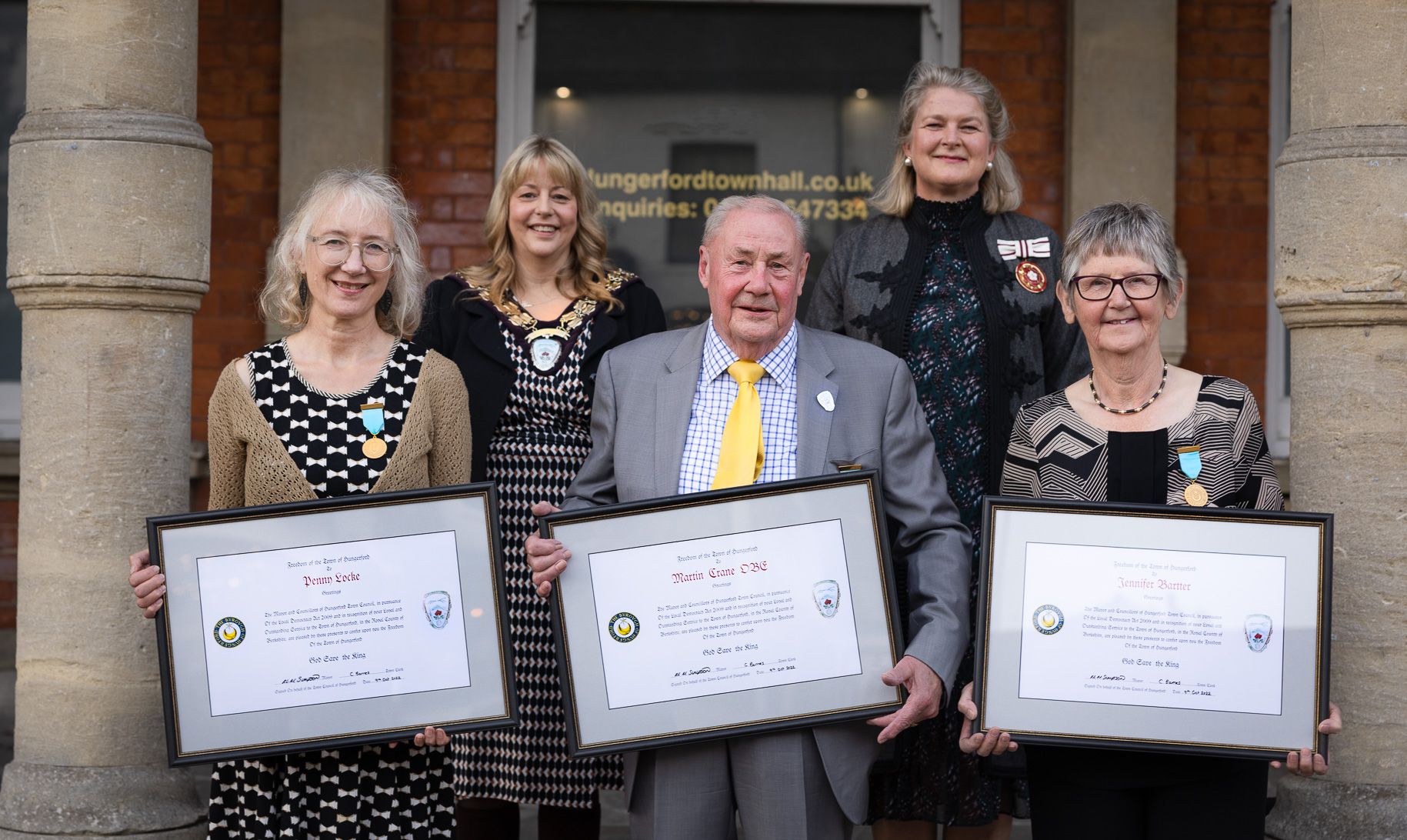 The Freedom of the Town 2022 Awards ceremony took place on 9th October in the Corn Exchange.
The Freedom of the Town is granted to citizens of the Town who have given exceptionally loyal and outstanding service to the Town.
This years' recipients, Martin Crane OBE, Penny Locke and Jennifer Bartter, received their awards from the Deputy Lord Lieutenant of Berkshire, Sarah Scrope, who read the citations before their invited family and friends, the Mayor, town councillors and previous recipients.
Citations
Martin Crane OBE
Martin joined the Town Council in 2008 and during his time as Councillor he held the office of Mayor of Hungerford for a total of 5 years, longer than any other Mayor in the history of Hungerford, finally stepping down as a councillor in 2021. This extraordinary commitment alone is deserving of this award.
His work on Tourism and bringing visitors to Hungerford was his passion and he succeeded in putting Hungerford on the map by helping the town become part of the Great West Way. He was instrumental in improving the High Street, campaigning tirelessly for the renovation of run-down buildings, and for introducing welcome signage. Martin established connections with local businesses and set up an annual event at the school to help leavers connect with local jobs and industry.
He continues to give his time in his 80s and is often seen out painting locks, weeding or planting trees with ARK and the church. He regularly mows the grass by the co-op garage and cuts back overgrown vegetation. He volunteers at Sunday School.
Penny Locke
Penny works tirelessly to organise events, promote local charities and businesses. She is a positive force for good in the town and wider community and an extraordinary networker and connector. Along with her husband she produces Penny Post a weekly online newsletter and website promoting local events and organisations.
She started Hungerford Food Festival which has grown into regular monthly markets for local producers with an emphasis on sustainability and helping the environment. She is a member of the Hungerford Environmental Action Team and Hungerford Swapshop.
Penny has been involved with the local secondary school, John O Gaunt, as PSA Chair and helped run many fundraising events. She is also an ex-cub leader. Penny deserves official recognition for her exceptional contribution to the community over a number of years.
Jennifer Bartter
Jennifer has dedicated herself to the community for decades and aside from running the Bowls Club as membership secretary for a number of years, she is heavily involved with community support organisations.
She started and runs Hungerford Food Bank and despite this being a sharp learning curve, she goes out of her way to deliver food and other products to the housebound, isolated and homeless people in the town. Without her, many families in Hungerford would not cope.
°C

%
mph
FRI
° °
SAT
° °
SUN
° °
MON
° °
TUE
° °