One Year On
Its now a year since Hungerford Town Council took over the lease of the Library building and it became Hungerford Hub, which is now run by a charity, Hungerford Library and Community Trust, with the help of volunteers.

The library service has been saved so Hungerford can continue to enjoy the service provided by West Berkshire Council. The building looks a little different from the outside and is now being used much more widely as a community venue, with workshops, classes, book talks and social groups regularly utilizing the building when the library is not open. The Trust has invested in new chairs and new bookshelves on wheels to allow the creation of a more adaptable space and a kitchen area has been installed for the benefit of hirers.
The small meeting room at the front of the building has been converted into an exhibition space – the Curve - where several exhibitions and pop-up shops have already been housed. It continues to be used as a meeting room at other times. Citizens Advice and Pensionwise representatives regularly hold meetings there by appointment.
To hire the Hub, or Curve, please call 07512 076150, or visit hungerfordhub.com for more information.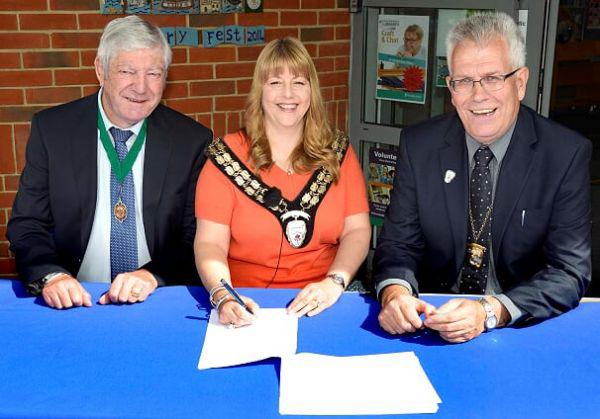 Library Handover
The formal ceremony to celebrate the handover of the Library from West Berkshire Council took place on Friday 15th June. The Hungerford Library Community Trust has been set up as a charity to take on the building by leasing it from WBC. The building will be run as a community hub, with WBC continuing to run the library service. This is an amazing achievement and marks the start of an exciting journey for the Town and the community. A further event will take place on Saturday 8th September at which the building will be formally re-opened as a community hub.
(Pictured l to r: Peter Harries, Cllr Helen Simpson, Vice Chairman of WBC Cllr Peter Argyle, Cllr Keith Knight)
West Berkshire Libraries Service
Please follow this link to the first West Berkshire Libraries Annual Report: http://info.westberks.gov.uk/WBLibsAnnualReportThe West Berkshire Libraries Service is free to all residents of all ages. They provide an At Home service and Online service to those customers who are not always able to visit their local libraries - please click on the links for more information.