About Us
In 2018 Hungerford Town Council took over the lease of the library building so Hungerford could continue to enjoy a library service provided by West Berkshire Council. The building became Hungerford Hub, a not-for-profit community asset supported by Hungerford Town Council, Hungerford Library & Community Trust and Friends of Hungerford Library (the Hub team).

A Community Venue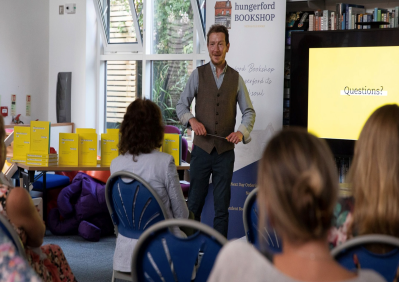 Hungerford Hub is funded by monies raised by the Hub team and grants from Hungerford Town Council and is run with the help of volunteers. The building is now a community venue, with regular local group meetings, workshops, book talks, exhibitions and seasonal events. Local companies and organisations are also able to book the building as a meeting venue. The large, adaptable, light filled space can accommodate up to 100 people in seated rows or 20 in a workshop setup with tables. There is a recently refurbished kitchen and a 62" moveable screen that offers excellent display quality in all light conditions.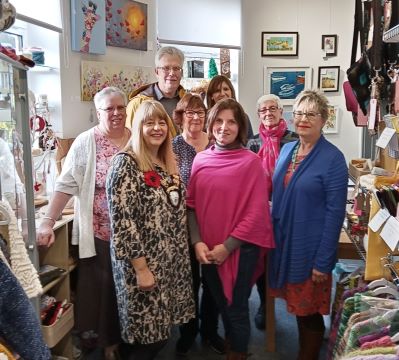 The Curve Gift Shop
Hungerford Hub is also home to The Curve gift shop, which is situated off the foyer of the building. Recently refurbished, the shop stocks a wonderful selection of art and crafts by local artisans and is open Tuesdays, Wednesdays and Fridays from 10am to 4pm. Fifteen percent of profits from The Curve shop go towards the upkeep of the library building.
Get involved
To hire the Hungerford Hub please call 07512 076150, or visit hungerfordhub.com for more information.
There are lots of ways you can support the Hungerford Hub; visiting The Curve giftshop, volunteering, sponsoring a brick, playing the West Berkshire Lottery or attending an event. By signing up to our newsletter you can also be kept up to date with all the news about the Hungerford Hub. Visit our website for more information on the ways to get involved.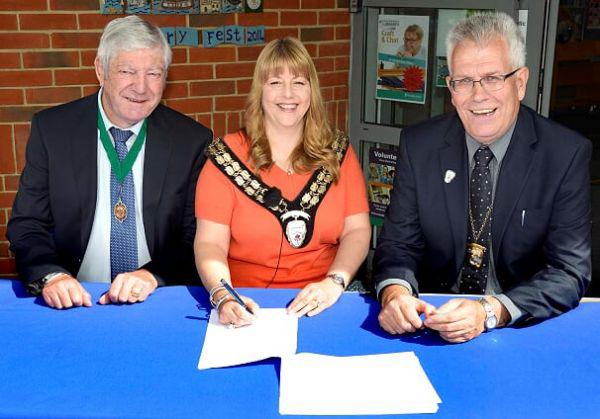 Library Handover
The formal ceremony to celebrate the handover of the Library from West Berkshire Council took place on Friday 15th June 2018. The Hungerford Library & Community Trust was set up as a charity to take on the building by leasing it from WBC. The building is now run as a community hub, with WBC continuing to provide the library service. This was an amazing achievement and marked the start of an exciting journey for the Town and the community.
(Pictured l to r: Peter Harries, Cllr Helen Simpson, Vice Chairman of WBC Cllr Peter Argyle, Cllr Keith Knight)
West Berkshire Libraries Service
Please follow this link to the most recent West Berkshire Libraries Annual Report: http://info.westberks.gov.uk/WBLibsAnnualReport The West Berkshire Libraries Service is free to all residents of all ages. They provide an At Home service and Online service to those customers who are not always able to visit their local libraries - please click on the links for more information.